Will Medicaid Or Medicare Pay For Nursing Care? It Depends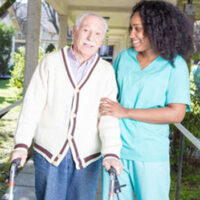 Adult children often have to obtain long-term nursing care for their aging parents. When they start to look at their options, they are often confused to learn that Medicare does not cover the cost of custodial nursing home care for their parents. Due to the fact that this can leave the family with an annual expense of $100,000 or more, it is a scary situation.
There are many misconceptions about Medicare coverage. The term 'nursing care' is a broad one and it covers both long-term nursing care and skilled nursing care. The two types of care have different purposes and they also each have different types of coverage available for them. Below, our St. Petersburg long-term care planning lawyer explains further.
When Medicare Covers Skilled Nursing Care 
As a federal program, Medicare is available to millions of people throughout the United States. The program is regulated by the Centers for Medicare and Medicaid Services. Medicare will only pay for skilled nursing care and only in certain situations. These are as follows:
Only a maximum of 100 days of skilled nursing care is available.
As of the 21st day, patients are required to make co-payments that are the equivalent of one-eighth of the initial hospital deductible cost.
Patients must be hospitalized for a minimum of three days before they are admitted to a nursing facility to be eligible for coverage.
The condition being treated through skilled nursing care must be the same condition the patient received treatment for during their hospital stay.
The patient must receive skilled nursing care no longer than 30 days after being discharged from the hospital.
It is important to note that Medicare does not provide coverage for skilled nursing care if the patient was on observation status during their previous stay in the hospital. Observation status means the patient was not well enough to leave the hospital and was still being monitored by healthcare professionals.
When Medicaid Covers Long-Term Nursing Care 
Medicaid is also a federal program administered by different states. As such, what is covered in Florida may not be covered in other states, and vice versa.
Long-term nursing care is not meant to restore a person to good health and independence in the same way skilled nursing care is. Instead, it is custodial care. Long-term nursing care is intended to help people who can no longer perform basic daily tasks such as eating, bathing, and grooming.
Medicaid will cover long-term nursing care as long as the applicant has no more than $2,000 in assets. Some assets, such as a homestead, are exempt in some situations. Medicaid in Florida also has a five-year look-back period. This means if the applicant gifted certain assets in the five years before applying, a penalty period is applied. During the penalty period, the applicant does not qualify for benefits, even if they are eligible in all other aspects.
Call Our Long-Term Care Planning Lawyer in St. Petersburg for a Consultation 
The rules surrounding Medicaid and Medicare are extremely complicated and the system is very challenging to navigate. Our St. Petersburg long-term care planning attorneys at Legacy Protection Lawyers can help you obtain the benefits your family needs and help you preserve your loved one's assets. Call us now at 727-471-5868 or contact us online to schedule a consultation and to learn more.
Source:
medicaid.gov/medicaid/long-term-services-supports/institutional-long-term-care/index.html