Florida Estate & Trust Litigation Lawyer
Legacy Protection Lawyers, LLP is recognized as one of the Best Law Firms in Florida® when it comes to Estate and Trust matters. The firm has a very successful estate and trust litigation practice combining talent, teamwork and tenacity in trying to achieve the very best outcomes for all of our clients.
Joseph W. "Jay" Fleece, III heads up the Estate and Trust litigation team.  Mr. Fleece has been engaged in estate and trust litigation for the last 38 years and has been involved in significant estate and trust litigation throughout Florida. Several noteworthy cases include Zrillic v. Estate of Romans, in which the Florida Supreme Court found Florida's Mortmain Statute unconstitutional and In re: Estate of Magee where the second District court of appeal upheld the constitutionality of Florida's Elective Share statute. Mr. Fleece, while a partner at Holland & Knight, was lead counsel representing the University of Alabama in a contested matter involving the estate of Hugh Culverhouse, the former owner of the Tampa Bay Buccaneers. For a more comprehensive list of the reported decisions that Mr. Fleece has been involved in, please click on the tab "reported decisions".
The Estate and Trust Litigation team is fortunate to have a top notch Registered Paralegal, Jessica Lesinski who is well versed in civil and probate procedure to support Mr. Fleece.
Inheritance Disputes in Florida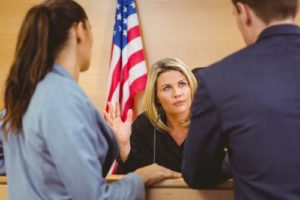 Controversies regarding estates, trusts, wills, and guardianships require seasoned litigators. Our reputation and experience make us the law firm that families turn to when they need litigation help throughout Florida.
When disputes about wills, trusts and estates arise, you need an experienced Florida estate & trust litigation lawyer who understands the complexities of probate and trust litigation. Our firm focuses its litigation practice on controversies involving estates, trusts, wills and guardianships. We manage all stages of the dispute resolution from pre-lawsuit (including mediation) through trial and at the appellate level if needed. We spend most of our time in the courtroom advocating on behalf of our clients in estate and trust matters. Our goal is to keep your case moving forward or to a satisfactory settlement.
Trust and Will Litigation
Typical matters involving probate litigation include challenging the validity of a Will, construing the terms of an ambiguous will, fighting for the spousal elective share, challenging excessive fees, creditor claims or recovery of estate assets. Many of the same contested issues in a probate estate also exist in trust disputes. However, because the Trust administration is not court supervised, the Trust beneficiaries must make sure the Trustee is properly discharging his duties. A Trustee has broad discretion with very little oversight in dealing with the Trust assets. Our lawyers have extensive experience in helping beneficiaries to hold the Trustee accountable.
Fiduciary Litigation
Fiduciary litigation involves actions with trustees, personal representatives and agents under a power of attorney. A Fiduciary is held to the highest standard of care. They are prohibited from putting their own personal interest ahead of the person to whom they owe a duty. Our lawyers can help you ensure that the Fiduciary is following the appropriate standard of care and seek damages when they have failed to do so.
Out of State Clients
Because of the national reputation of our estate litigation lawyers, we often are the law firm that non-Florida families hire when they need probate or trust litigation assistance in Florida. Our litigation practice is state-wide. Many of our clients are beneficiaries who don't live in Florida. We have represented beneficiaries, spouse, children, charities, creditors and others who have had an interest in an estate or trust and found they needed legal representation in litigation matters.