Does A Buy-Sell Agreement Trump A Will?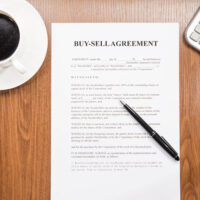 A common legal technique used in business succession planning is the buy-sell agreement (BSA). This term essentially describes any contractual agreement providing for the sale of a person's interest in a business entity upon their death. For example, if you have a multi-member limited liability company (LLC), the operating agreement may contain BSA language that gives the surviving members the right to purchase a deceased member's share from their estate.
Florida Court Rules Utah LLC Operating Agreement Did Not Undo Bequest to Deceased Member's Children
So how does a BSA interact with a deceased owner's estate planning documents, such as a will? As with many legal questions the answer is, "It depends." Consider this recent decision from the Florida Fourth District Court of Appeal, Tita v. Estate of Tita. This case involved a dispute between a mother and two of her children over the proceeds from the sale of a deceased man's membership in an LLC.
The facts of this case were fairly straightforward. The decedent signed a will in 2017. The will specifically devised the decedent's interest in the LLC to two of his six children. The will also named the wife as the sole beneficiary of the residuary estate–i.e., she would receive all probate assets not specifically devised by the will.
The LLC itself was based in Utah. The decedent held a 39.5 percent interest. The LLC's operating agreement provided that upon the death of a member, the company had the option to purchase their interest within 180 days by giving written notice to their probate estate. The two surviving members–who happened to be the wife and another child–exercised this option.
Then the question became what happened to the proceeds of that sale. The two children named in the will argued that money belonged to them pursuant to the bequest in their father's 201 will. The wife, however, argued the operating agreement trumped the will and that the bequest "failed." As a result, the proceeds from the sale should go back to her as part of the residuary estate.
The dispute ended up before a Florida probate judge, as that was where the decedent resided when he died. Applying Utah law, as required by the terms of the operating agreement, the Florida probate judge held that the BSA provision of the operating agreement did not otherwise invalidate the decedent's disposition of the sale proceeds to his two children in his will.
The Fourth District agreed. It held that "[n]othing in the Operating Agreement operated to trump the will and effect a transfer of the membership interest outside of the will." All the agreement did was give the remaining members the right to purchase that membership interest. But it still belonged to the two children pursuant to the will, and thus they were entitled to the proceeds from the sale.
Speak with a Florida Business Succession Lawyer Today
Buy-Sell Agreements are useful when it comes to keeping a business going after a co-owner's death. But you need to make sure that any BSA does not interfere with or could possibly defeat your overall estate plan. If you need legal advice on this subject from a qualified St. Petersburg business succession attorney, contact Legacy Protection Systems
Source:
4dca.org/content/download/830843/opinion/211828_DC05_03022022_093735_i.pdf