Estate Planning for Single Parents: How to Protect Your Children?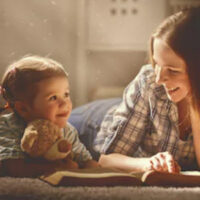 Many families in America have single-parent households. While everyone should have an estate plan, the need for estate planning is greater for single parents with minor children.  If the single parent dies or becomes incapacitated, does he or she know who will care for their child?  By setting up a plan ahead of time, parents can have peace of mind that their children will be cared for by people they trust.
Fortunately, there are certain steps every parent should take to create an estate plan and ensure that their children are protected in the event of their death or incapacity.
Executing a Will or Trust
When it comes to establishing an estate plan as a single parent, the first step is to create a will or trust to establish how your children will inherit your assets.  If you do not create a will or trust, your minor children may inherit assets that must be monitored by a Court until they are age 18.  This is called the Florida Uniform Transfers to Minors Act.  This may not be the inheritance you had envisioned for your children, especially if the money they inherit from you is managed by someone you do not trust.
A will or trust allows you to create the terms so you can decide how you children inherit your assets, and who should manage the assets until your child reaches an age you deem appropriate.
Providing for the Care of Your Children
Every parent who has minor children has probably thought about who would care for their kids in the event of their death or incapacity.  Although you may want one person to manage your child's inheritance, you can name someone else to have custody of your child.
You can prepare a Declaration of Preneed Guardian for Minor Children to name who you would want to have custody of your minor children.  However, if a biological parent is alive and available to care for the minor, he or she may trump your Preneed Guardian.  If this is the case, you would need to take more care in creating a plan so that the unfit biological parent is deemed incapable of caring for the minor child by a court.
In order to designate a pre-need guardian in Florida, a single parent will have to sign a written declaration that appoints an adult to serve as a guardian in the event of the parent's incapacity or death. The declaration must be signed in the presence of two witnesses.
Speak with a Lawyer About Estate Planning for Single Parents
If you are a single parent and you want to think ahead and plan for uncertainties, it is vital to consult with a skilled lawyer who can help you choose the most appropriate estate planning tools to protect your children.
Speak with our skilled St. Petersburg estate planning lawyers at Legacy Protection Lawyers, LLP, to discuss estate planning in your particular situation. Call our attorneys at 727-471-5868 today.
https://www.legacyprotectionlawyers.com/estate-planning-for-dementia-and-alzheimers-disease-in-florida/