How To Protect Your Digital Assets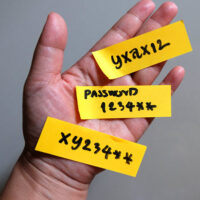 As you start creating your estate plan, a few assets may immediately come to mind that you want to protect. Your home and your vehicle may be just two of these. However, did you know it is important to protect your digital assets, too? Digital assets can include property such as Bitcoin, security tokens, and even your social media profiles. So, how can you protect these assets in the event that you pass away? Below, our St. Petersburg asset protection lawyer explains some of the most important things you need to know.
Digital Assets are Password Protected
The majority of digital assets are protected by a password. As such, one of the most important ways to protect them is to preserve and protect the passwords. The best passwords are strong and include as many letters, characters, and symbols as a platform will allow. The longer your password is, the more difficult it is for others to guess. Long passwords, particularly those with a variety of different character types, are also harder to hack.
Storing Passwords Properly
Just about everything needs a password today, from your online banking account to the social networks you use. Since you should use as many characters as a platform allows, and because they all vary, you may not be able to remember them all off the top of your head. As such, you may have to create some type of list for them.
Certain models of electronics, such as the iPhone, will allow you to store your passwords on the cloud. You need just one password, or even your face or fingerprint, to access them. If this feature is not available, you can create a manual list but you must ensure it is kept in a secure place. This secure place may be in a safe in your home or in a safety deposit box. Wherever you keep yours, it is important to make sure you can access it regularly so you can update it as needed.
Include Digital Assets in Your Estate Plan
Among all the different types of property you should include in your estate plan, it is important that you do not overlook digital assets. Remember to include not only financial digital assets, such as your PayPal or Bitcoin accounts, but also sentimental digital assets. These include things such as the photos and videos of your family you may have on Facebook or Instagram. You may want to pass these along and keep them in the family, as well.
Also include in your estate plan instructions for your personal representative. For example, if you have a list of passwords somewhere, you should include details about how your personal representative can find the list, and how to access the list.
Our Asset Protection Lawyer St. Petersburg Can Provide Legal Advice
At Legacy Protection Lawyers, LLP, our St. Petersburg asset protection lawyers can help you create a thorough estate plan that protects what is most valuable to you and your family. Call us now at 727-471-5868 or contact us online to schedule a consultation and to learn more about your legal options.
Source:
leg.state.fl.us/statutes/index.cfm?App_mode=Display_Statute&URL=0700-0799/0732/0732.html