Legacy Protection Lawyers Ranks Top 20 in Gator100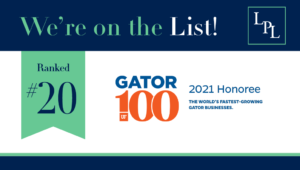 We are pleased to announce that Legacy Protection Lawyers, LLP was named to the University of Florida's 2021 Gator100 during a special virtual ceremony on April 23.
The Gator100 recognizes the world's fastest-growing Gator businesses—that is to say, businesses owned or led by UF alumni. Ernst & Young calculated each company's compound annual growth rate (CAGR) over the past three years to generate the rankings.
Legacy Protection Lawyers, LLP was ranked 20th out of 100. The list includes businesses from all industries, with operations across the country.
Legacy Protection Lawyers' was founded by founding partner and  proud Gator alumnus William "Bill" Battle McQueen (J.D., class of 1987) and founding partner Joseph "Jay" Fleece, III. Bill leads the firm's planning and administration team, where he develops in-depth estate documentation through a meticulous Legacy Protection ProcessTM. Jay helms the firm's litigation team, bringing years of experience and an honest, fair attitude to each unique situation. Together, their expertise and experience inform the firm's approach, prizing legal knowledge, practical wisdom, and moral integrity above all else.
Bill isn't the only Gator on the team: Morgan McQueen earned her B.S. in Business Administration and graduated class of 2014.
This recognition illustrates Legacy Protection Lawyers, LLP's commitment to offering an excellent experience for clients in trust and estate law, and this visibility allows for increased opportunity to demonstrate exceptional client service to Gator alumni and fans alike (Georgia Bulldogs get equally great service, too!)
We couldn't have received this recognition without support from you—our clients, friends, and partners. Your trust in us, belief in our vision, and referrals make all the difference as we continue to grow our business and set a superior standard for estate planning and litigation.