What Do Prenups Have To Do With Your Estate Plan? A Lot!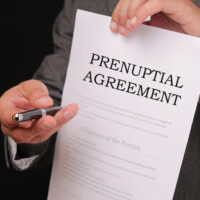 When considering estate planning or prenuptial agreements, you may not think one has much to do with the other. However, that is not true. A prenuptial agreement is a contract that outlines how your assets will be divided between you and your spouse in the event of divorce or death. An estate plan dictates how your estate will be divided and distributed in the event that you pass away.
Both documents address the issue of your assets and so, it makes sense to combine them so they can work together. Below, our St. Petersburg estate planning lawyer explains why it is important to include a prenup in your planning documents.
Protect Children from Outside of the Marriage 
One of the main reasons people enter into a premarital agreement is to protect children from a previous relationship. In Florida, you cannot completely disinherit your spouse in your will. Even if you leave everything to your children in your estate plan, the intestacy laws of the state will overrule your wishes and your spouse will still obtain a portion of your estate. In this instance, any children from a previous marriage may not receive the share of your estate that you had intended.
However, a prenuptial agreement will govern how assets are distributed and help make sure that your property passes to your surviving spouse and children in the proportions you desire. Regardless of what the intestacy laws dictate, if your spouse has agreed that your children will receive a certain portion of assets, you can have the peace of mind that they will.
Protect a Family Business 
If you own your own business, or you expect to inherit one, including a prenuptial agreement in your estate plan can ensure it is protected. If you commingle marital assets with the business, or use the business' profits to contribute to household expenses, the entire business will likely be considered marital property. As such, your spouse may receive all or a portion of it in the event you pass away. By defining the business as separate property in a prenup, you can ensure that the business passes to your preferred beneficiary, instead of what state law dictates.
Protect an Inheritance 
Like a family business, if you expect to receive an inheritance, drafting a prenup can protect it in the event that you pass away. Without a prenup in place, the inheritance will likely become part of the estate and divided as such. By including the inheritance in your prenup, you can make sure it passes to the people you wish, regardless of what the intestacy laws say.
Call Our Estate Planning Lawyers in St. Petersburg Today 
When drafting an estate plan, you will likely have a lot of questions and it is important to speak to a St. Petersburg estate planning lawyer who can answer them. At Legacy Protection Lawyers, LLP, our seasoned attorneys will get to know you, your situation, and your needs and desires so we can help you draft a plan that fully addresses all of the issues you face. Call us now at 727-471-5868 or contact us online to schedule a consultation.
Sources:
leg.state.fl.us/Statutes/index.cfm?App_mode=Display_Statute&URL=0000-0099/0061/Sections/0061.079.html
leg.state.fl.us/statutes/index.cfm?App_mode=Display_Statute&URL=0700-0799/0732/0732.html