What Is A Codicil To A Last Will And Testament?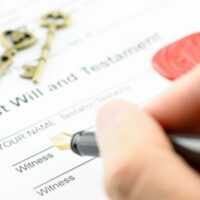 The term "codicil" may be heard when discussing updates to estate planning documents, particularly the Last Will and Testament. However, not everyone understands what a "codicil" is and what it means.  Most Wills in the state of Florida can be revoked or amended at any time before the testator's death or incapacity.   If a testator would like to make a change to his or her Last Will and Testament but does not want to recreate the whole document, you can prepare a "codicil," which is essentially an amendment to your Will.
What Does a Codicil Mean?
A codicil is a supplementary legal document that revises or modifies a Will or parts of a Will. The Codicil is often used for minor adjustments to the Will and does not replace the Will in its entirety.
When Do I Need a Codicil?
If you need to make one or two changes to your Will, a codicil may be best for you.  For example, if your named personal representative dies or you would like to replace who is currently named in your Will, a codicil can be used to change that provision only.
For a simple change as this, a codicil would be preferred because it would be simpler and less expensive to make such a change than creating a whole new Will.  The attorney would not need to draft an entirely new Will, and the testator would not need to take the time to review the entire new Will.
How to Execute a Codicil in Florida?
Under Florida law, executing a codicil requires the same formalities as executing a Will. You must comply with the following requirements to ensure that your codicil is valid:
The codicil must be in writing and signed by the testator; and
At least two witnesses must be present at the time the testator signs the Codicil.
Moreover, a codicil should also be self-proving to avoid the need to call a witness to the Court after the death of the testator.
Speak with a St. Petersburg Estate Planning Attorney
In many cases, Wills can include multiple codicils. The testator has a right to execute more than one codicil to amend their original Will instead of drafting a new one.  However, when making too many changes to your original Will, it may start to get too confusing and a new Will may be necessary at that point.
If you want to make changes to your Will, you must make the educated decision to move forward with a new Will or a codicil.  Having multiple codicils can be confusing for the court, the beneficiaries, and the personal representative of your estate. It's best to work with an attorney to make sure that your wishes are clearly expressed in your estate planning documents.
Consult with our skilled lawyers at Legacy Protection Lawyers, LLP, for a case review at 727-471-5868.