What Is A Mutual Will Agreement In Florida?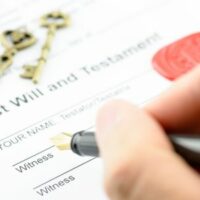 As estate planning lawyers, we often get asked about Joint Wills and Mutual Will Agreements. If you are a married person who wants to set up an estate plan, you may have thought about creating a Mutual Will.
It is not uncommon for spouses to want to combine their Wills by using a Joint Will. Why? Because a Joint Will ensures that the surviving spouse inherits their spouse's estate upon their death. In addition, when you create a Joint Will, neither spouse can change or revoke the Will upon the death of the other spouse.
Are Joint Wills Valid in Florida?
No, Florida does not recognize Joint Wills. As a result, married individuals must create two separate Wills. This limits a married couple's ability to ensure that their spouse would not change or revoke their Will upon their death.
Many married individuals fear that their spouse will alter their Last Will and Testament following the death of their spouse. In most Wills, married couples agree to transfer all of their assets and property to the surviving spouse when they pass away.
However, when one spouse dies, the other spouse can freely change the beneficiaries in their own Will or otherwise deviate from the agreed-upon plan. Joint Wills are used to prevent the surviving spouse from altering their Will upon the death of the first-to-die spouse.
But since Joint Wills are not valid in Florida, married couples can create a Mutual Will Agreement.
What Does a Mutual Will Agreement?
A Mutual Will Agreement (MWA) is not the same as a Joint Will. Unlike Joint Wills, a MWA is valid and enforceable contract in Florida under Fla. Stat. § 732.701.
Essentially, an MWA is a contract between two spouses that outlines the contents of their Wills. This agreement can also be used to prevent spouses from changing their own Wills upon the death of the first-to-die spouse.
However, in order to be valid, a Mutual Will Agreement must be signed by both spouses in the presence of two witnesses.  Married couples can benefit from entering into this agreement to eliminate the risk that the surviving spouse might change their Will upon the other spouse's death.
When Can the Testator Change or Revoke Their Will in Florida?
In the absence of a Mutual Will Agreement preventing them from changing or revoking the Will, the Testator – the person who created the Last Will and Testament – has a right to amend or revoke their Will any time before their death.
This can be done by executing a codicil or by creating a new Last Will and Testament. The Testator must sign the codicil in the presence of two witnesses and must be of sound mind. The same can be said about revoking a Will in Florida.
The Testator can revoke their Will by either destroying the document or executing a new Will to replace the original document.
Get a Consultation with Our St. Petersburg Estate Planning Attorneys
If you are considering creating a Mutual Will Agreement or need assistance with amending or revoking your Will, contact our knowledgeable estate planning attorneys at Legacy Protection Lawyers, LLP. Schedule a consultation by calling 727-471-5868.
Resource:
leg.state.fl.us/Statutes/index.cfm?App_mode=Display_Statute&URL=0700-0799/0732/Sections/0732.701.html