Legacy Protection Lawyers, LLP named as a top Florida firm by U.S. News and World Report and Best Lawyers®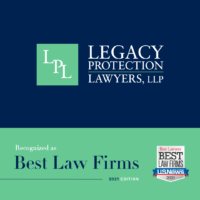 Legacy Protection Lawyers, LLP, is pleased to announce that the firm has been recognized as a top Florida firm by U.S. News & World Report and Best Lawyers®. The regional recognition as a firm is a Tier 2 in Litigation – Trusts & Estates, and a Tier 3 in Trusts & Estates Law. Only a small percentage of eligible firms nationwide receive recognition in the top three tiers.
Each year, U.S. News, in collaboration with Best Lawyers®, ranks more than 14,000 firms across the U.S. To be eligible for inclusion in the 2021 Edition of U.S. News – Best Lawyers "Best Law Firms" as a Best Law Firm, a firm must first have a lawyer recognized in The Best Lawyers® in America. This accolade recognizes the top 5% of private practicing lawyers in the United States based on both client and peer ratings, and marks outstanding professional excellence and legal expertise.
Earlier this year, our founding partners, William "Bill" Battle McQueen and Joseph "Jay" Fleece, III, were both recognized by Best Lawyers® on the 2021 list of Best Lawyers in America. Bill leads the firm's planning and administration team, where he develops in-depth estate documentation through a meticulous Legacy Protection ProcessTM. Jay helms the firm's litigation team, bringing years of experience and an honest, fair attitude to each unique situation. Together, their expertise and experience inform the firm's approach, prizing legal knowledge, practical wisdom, and moral integrity above all else.
This recognition articulates Legacy Protection Lawyers, LLP's commitment to excellence in trust and estate law, and allows for increased opportunity to demonstrate exceptional client service.