Notarizing Estate Planning Documents During the COVID-19 Pandemic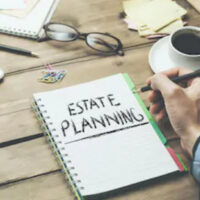 During the coronavirus pandemic, many Americans cannot help but wonder, "Who will make medical decisions on my behalf if I become incapacitated?" and "Is this the right time to create an estate plan?"
The COVID-19 pandemic has created a surge in requests to draft wills, trusts, and other financial and healthcare documents. Many people now recognize that having your estate plans established gives you peace of mind in any unexpected event.  Although many are rushing to complete the documents, there is often the issue of finding a notary and witnesses to sign the documents with you.
How can you notarize an estate planning document in the coronavirus era, especially during Florida's stay-at-home order?
How to Notarize Your Estate Planning Documents During Florida's Stay-at-Home Order?
Shortly before the coronavirus pandemic, many states enacted laws allowing remote online notarization, also known as RON. Florida was one of the states that enacted RON, which allows notaries to acknowledge legal documents without in-person meetings.
Beginning January 1, 2020, Florida allowed RON for deeds, mortgages, and other documents to be completed without needing an in-person notary.  However, Florida specifically did not permit RON for wills and other estate planning documents.
What Estate Planning Documents Don't Require Notarization in Florida?
Florida law does not require a notary for all estate planning documents. In fact, for documents, Florida law requires signing in the presence of two witnesses without the mandatory notarization requirement.
Often, the presence of a notary (notarization) is merely advised as an extra precaution. From a legal standpoint, notarization is not required for wills, living wills, revocable trusts, healthcare surrogate designations, and other documents.
Contrary to popular belief, a Will only requires that there need to be two disinterested witnesses in the physical presence of the testator when signing the document.  A "disinterested witness" should not be the testator's heirs, or a named beneficiary in the Will. If the witnesses are heirs or are a named beneficiary or agent under the Will, other family members could have standing to challenge the validity of the Will.
The testator also has an option to declare the Will as being "self-proving." With the self-proving affidavit, the court would not have to locate the witnesses and call them into court to verify that the testator signed the document in their presence.  In order to avoid the need for witnesses to verify the Will after the testator's death, the Testator and witnesses could sign the self-proving affidavit in the presence of a notary, which makes things simpler down the road.
Until July 1, 2020, Wills and many other testamentary documents must be original signed documents.  After July 1, 2020, there will be an increase in "electronic wills" or "e-wills," which permit the use of RON.  However, it is still advised that you have an attorney oversee the signing of the e-will.
Although you may not be able to notarize estate planning documents right now due to the pandemic, this does not mean that you should postpone the process.  Talk to our St. Petersburg estate planning attorneys to determine whether you need a notary in your particular situation. Contact Legacy Protection Lawyers, LLP, to receive a consultation at 727-471-5868.
Resource:
miamiherald.com/news/coronavirus/article241686381.html
https://www.legacyprotectionlawyers.com/online-estate-planning-platforms-are-booming-in-the-coronavirus-era-but-heres-why-you-shouldnt-use-them/